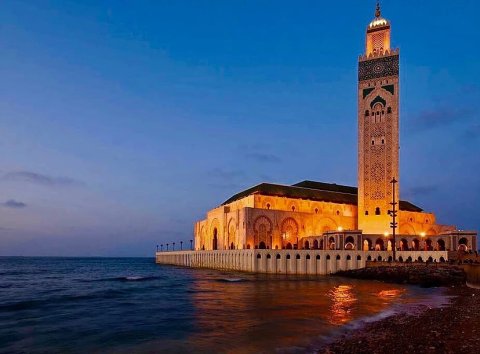 There are many ways to experience Morocco, so we're here to give you a head start on your plans by providing some major cities and sites​​ that are a must-see if you have a decent amount of time to spend in the Kingdom of Morocco.
 One of the numerous ways you can begin your Moroccan adventure is by flying into the airport of Tangiers. If your departure airport doesn't allow for this option, you can start the tour from a later point in our guide and go from there. In Tangiers, a beautiful port town with great seafood, you can visit the medina, the Place Avril 9, and experience a stunning view over the Strait of Gibraltar and Southern Spain. You can visit the Kasbah via the Place du Mechouar, and even the Cave of Hercules, about 15 minutes outside of the city center.
 After Tangiers, grab a taxi for about a 2-hour drive, costing you about 700 dirham, to the walled in city of Chefchaouen, also known as the Blue City. This mountain city is a great place to relax, and perfect for breathtaking photographs. Its blue color is due to its Jewish influence dating back from as early as the 16th century, when Jewish people sought refuge from the Spanish Inquisition. Even though it is slightly out of the way, Chefchaouen is a great city to explore by foot with a camera in hand. 
From Chefchaouen, you can head to Fez, about a 3-hour drive, for about 1000 dirham. With its narrow, labyrinth-like streets, Fez is full of history, mosques, medersas. Let yourself get lost in the city, however you must remain aware of your belongings and of pushy shopkeepers. Always negotiate prices with salespeople. For example, if you visit the tannery (hold your breath!), you can sometimes offer a 1/4 to a 1/3 of the asking price, walk away, and have the shopkeeper ready to offer you a more reasonable price for leather goods. 
 From Fez, (but also from Marrakesh), you can pick a desert tour that suits your budget and time. We recommend a 3-day, 2-night tour, which takes you into the Erg Chebbi Desert, where you leave on camelback to camp with the native Berber people of Morocco. From there, you'll see the Todgha Gorge, visit an oasis, take in the magnificent Dades Valley, visit Ouarzazate, touch ancient African fossils, and breathe in the Atlas Mountains.
After the desert tour, arrive in Marrakesh, and visit the medina, the Mellah (the old Jewish quarter), Marrakesh's plentiful gardens, and the Medersa Ben Youssef. Marrakesh is great for nightlife, shopping, and golf as well!
From Marrakesh, visit another blue town called Essaouria, a seaside town with beaches, watersports, and a famous backdrop from Game of Thrones! This is a great city to just relax and lay seaside, and climb the city's ramparts.
 From there, visit Casablanca that remains associated with romance, but has transformed into a modern financial and industrial hub. You can visit many Jewish sites here, and even enjoy a Moroccan spa experience, with black soap made from Argan oil, to leave your skin radiant when you return from your trip!
 Lastly, visit the capital of Morocco, Rabat, famous for its Andalusian Gardens, Oudayas Kasbah, and art museums.
You can modify your trip anyway you'd like, and fly, take a taxi, or train, between Morocco's cities. Do some research beforehand to make sure that your trip fulfills your needs (relaxation, nature, budget etc.). No matter what, Morocco won't disappoint!